Overcoming an addiction is a complicated process since there is no known cure and no one size fits all solution. In fact, it may be more accurate to think of recovery as a journey through uncharted territories. Recovery is a powerful period of self-reflection because, beyond everything else, it's a period where you recognize the problem at hand and your willingness to fix it. Recovery can mean different things to different people, but to most, it's a time of self-healing and the beginning of a lifelong journey.
When we think of addiction recovery, what comes to mind for most of us is alcoholism or alcohol use disorder (AUD). According to the National Institute on Alcohol Abuse and Alcoholism (NIAAA), alcohol use disorder is a serious medical condition characterized by an impaired ability to stop or control alcohol use despite adverse social, occupational, or health consequences. It is one of the most common forms of addiction seen in the US and around the world. According to a national survey, around 14.1 million adults aged 18 and older were diagnosed with AUD in 2019.
As the most common disease in the United States, alcohol addictions now have a wide range of treatment options and rehabilitation strategies. The first step in overcoming alcoholism is to seek care from a reputable treatment center that will remedy underlying and co-occurring disorders.
Since recovering patients are continually bombarded by stimuli as a result of alcohol's increasing prevalence in our society. In order to be successful, alcohol rehabs must be prepared to support recovering patients in finding effective ways to handle triggers and cravings on a day-to-day basis.
What Florida has to Offer
Many people know Florida as the Sunshine State, home to world-famous theme parks and America's holiday capital. However, it also acts as a backdrop for many of the high-end luxury addiction treatment centers.
With plenty of sun, sand, and sea Florida offers a perfect setting for alcohol recovery and rehabilitation. Florida boasts over 700 rehab centers for those seeking care for addiction. Many of these facilities are in the vicinity of larger cities such as Jacksonville, Tampa, Miami, and Orlando, but alcohol treatment services can also be found in West Palm Beach, Panama City, Port St. Lucie, and all across the state. And as such, Florida is considered one of the safest places in the world to pursue addiction treatment.
If you're a Florida resident in need of assistance or visiting from another part of the world, Florida is the best place to start your path to recovery. Drug and alcohol recovery centers in Florida are equipped with effective services and skilled personnel dedicated to assisting patients in obtaining and preserving sobriety.
Every addiction treatment center is unique, and what makes one treatment center perfect for one person may not always be suitable for another. This is due to the fact that each rehab facility has its own set of services and specialties, just as each patient has their own set of addictions and circumstances. That's why having a facility that can fulfill all of your expectations is key to your recovery.
Before entering a recovery program, you are likely to have a lot of questions. Fortunately, every rehabilitation facility has qualified professionals on board who can assist you in making the right decision. Regardless of the severity of your condition or your individualized needs, Florida has a treatment center for everyone.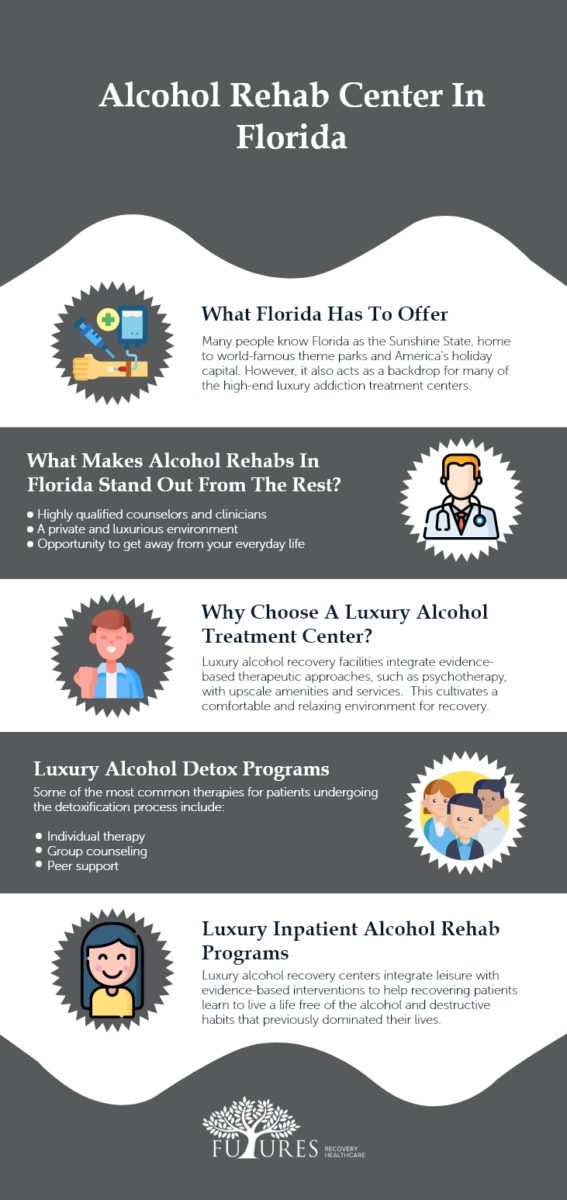 What Makes Alcohol Rehab in Florida Stand out from the Rest?
A good reputation is a huge motivator when picking the right treatment center. This is why so many people decide to pursue addiction treatment in Florida. Here are three explanations as to why Florida remains at the top of the list:
Highly qualified counselors and clinicians: It's only normal that the best rehabs in the country attract the best counselors and practitioners. In reality, that is precisely what patients will discover in Florida: the best possible treatment. Many of Florida's addiction professionals are at the top of their field. And alcohol rehab centers in Florida are known for their innovative concepts and treatment plans to effectively help patients suffering from an addiction.
Private and luxurious environment:

If a patient lives in an environment that makes them feel secure and happy, they are more likely to respond to treatment. Aside from alcohol addiction recovery, Florida is a beautiful place to relax. The climate is pleasant all year round, and the state's natural resources paint an image of tranquility. Include a few unique features and services into this list, and that's what makes Florida stand out from the rest.

Opportunity to get away from your everyday life:

When the opportunity presents itself, it is often preferable for anyone to pursue addiction treatment outside of their home. It helps the patient get away from the situation that led to their addiction. Without outside influences, the patient has a greater chance of concentrating on his or her rehabilitation.
Medical detox, evidence-based therapies, holistic care, and other recovery methods are available in Florida inpatient rehab facilities to help people recover from addiction.
There are many inpatient rehab facilities in Florida that focus on restoring all facets of a person's life, not just their addiction. Holistic treatment is achieved by designing an individualized treatment plan for each patient, ensuring that they receive the complete care they need to heal successfully.
Many Florida alcohol treatment facilities also provide gender-specific services to cater to women and men's different needs, and it's also the home of most luxurious rehabs.
Why Choose a Luxury Alcohol Treatment Center in Florida?
Luxury alcohol recovery facilities integrate evidence-based therapeutic approaches, such as psychotherapy, with upscale amenities and services. This cultivates a comfortable and relaxing environment for recovery.
Luxury rehabilitation facilities appeal to those who demand top-notch customer service and amenities similar to those offered at high-end resorts. The services and amenities generally found in luxury rehab centers include:
Acupuncture therapy

Aromatherapy

Equine therapy

Golf

Spa treatments

Pools and hot tubs

Massage therapy

Nutritional counseling

Yoga

Gourmet meals

Private rooms

Fully equipped gyms
Luxury Alcohol Detox Programs
Detox facilities are also available at many luxurious rehab centers. You can begin detoxification within a few hours of your arrival if required. Professional medical detox involves a series of procedures aimed at removing toxins from the body and restoring chemical balance. Health supervision, treatment, and social support or therapy are often used to accomplish this process. The completion of an alcohol detox program signifies the beginning of your alcohol recovery program.
Depending on a patient's particular requirements and any co-occurring mental health conditions, each patient will receive a unique combination of therapies. Some of the most common therapies for patients undergoing the detoxification process include:
Individual therapy

Group counseling

Peer support

Family therapy

Medication
After the detoxification or initial assessment is complete, most inpatient clients are free to use the center's many facilities.
Luxury Inpatient Alcohol Rehab Florida
Clients who participate in inpatient treatment at luxury facilities have the experience of living in a large resort-style setting. Luxury alcohol recovery centers integrate leisure with evidence-based interventions to help recovering patients learn to live a life free of the alcohol and destructive habits that previously dominated their lives. These evidence-based services can include:
Cognitive-behavioral therapy

: CBT is a type of therapy that focuses on the relationship between one's actions, emotions, and thoughts. The therapist will show you how to identify and deal with relapse triggers.

Contingency management (CM):

Positive reinforcement in the form of incentives is used to encourage abstinence behaviors in contingency management.

Multidimensional family therapy:

This therapy aims to strengthen family functioning and repair strained bonds.
Traditional treatment modalities can be paired with holistic approaches or alternative treatment approaches in luxury alcohol recovery facilities. These treatment approaches include:
Yoga

Meditation and mindfulness

Acupuncture

Music therapy

Arts therapy

Adventure therapy
Luxury inpatient programs provide their clients with an escape from their daily lives. This helps them focus solely on their recovery without any distractions.
Benefits of Choosing Luxury Alcohol Rehabs in Florida
A high staff-to-patient ratio

– This helps those in recovery receive the personal level of care they need.

A higher level of privacy

– Luxury rehabs take privacy seriously. The members of their staff are required to sign nondisclosure agreements, and patients are provided private rooms.

Ability to keep working during treatment

– Luxury rehabs allow patients to keep up with their work by scheduling treatment around the patient's busy schedules.

Meeting dietary restrictions

– If you have unique dietary requirements or are trying to stick to your diet, luxury treatment facilities are a perfect choice since most meals are catered or cooked by an in-house chef.

Time for recreation

– Luxury rehab centers know that in order to recover and appreciate your time in rehab, you must have some fun. As a result, they often offer leisure activities such as fishing trips, spa visits, and sporting events.

Scenic environment

– Being surrounded by beaches or lush greenery can help your mind relax and heal.

Additional amenities

– Frustration and tension will make it more difficult to maintain sobriety and focus on healing. Additional resources are available to help alleviate some of the tension and keep you on the road to recovery.
How Much Do Florida Alcohol Rehab Centers Cost?
The cost of treatment can vary by individual factors, such as your level of health insurance coverage, length and time of your treatment, amenities provided at the facility, and the therapies you wish to take part in.
The cost of detox and recovery care in Florida is one of the most significant obstacles. If you don't have health insurance, you might be faced with a hefty bill. Regrettably, not all health insurance plans provide substance abuse treatment. It's important to ensure that your policy will cover the rehab you choose before enrolling. The best way to do that is by contacting your insurance provider.
According to the Substance Abuse and Mental Health Services Administration (SAMHSA), recovery is defined by the process of change through which individuals improve their health and wellness, live a self-directed life, and strive to reach their full potential.
You need to be immersed in a supportive atmosphere that helps you to accumulate strength and concentrate on rehabilitation in order to free yourself from addiction and regain control of your life. Futures Recovery Healthcare in Tequesta, Florida, offers multiple pathways to recovery from addiction, co-occurring mental health disorders, and primary mental health conditions through evidence-based treatment programs, medically assisted detox programs, compassionate alliance, and individualized care.
If you wish to recover from alcohol addictions in luxury surrounded by tranquility and beautiful landscapes, Florida is the place for you. Take the first step towards recovery by reaching out to Futures Recovery Healthcare.
YOU ARE NOT ALONE IN THIS
Our specialized staff stands ready to help you through this challenging time.
CALL NOW